Bread in All Forms
Bari is our favorite place to eat Pizza and Italian specialties in Italy
Despite the temptations of panzanella in Tuscany, pesto in Liguria, and cacio e pepe in Rome, the Puglia region, and Bari is our favourite place to eat in Italy. In a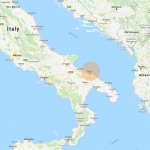 country that lives for its food and where we make annual foodie pilgrimages, that's no small claim. Especially for pizza and other Italian specialties, ButiIt was dreams of mammoth plates of antipasti that prompted our return for a second visit this September and it only confirmed that the region is foodie heaven. Here's why: Everything is Grown Locally.
Pasta in Puglia is made with durum wheat semolina, no eggs, and is usually handmade. The most common type is orecchiette or "little ears" which feature on every restaurant menu. You can see them being made on the streets of Bari. Another typical Puglian pasta is sagne 'ncannulate, long twisted strands.
Bread is served with every meal and is used to mop up the delicious sauces leftover on your plate. Other tasty bread products include taralli, baked bread stick rings that come in a range of flavours like fennel or onion and are often served with a drink or in your bread basket; pizzior puccia a bread from the Salento that's studded with olives and tomatoes; and focaccia which is especially good in Bari, smeared with roasted cherry tomatoes, olives and plenty of local olive oil. Our favourite was at Panificio Fiore in Bari's labyrinth old town.
Four Family-Owned and Operated Restaurants
for Pizza and Italian Specialties:
Florida NY, Pine Island NY, Warwick NY, and Matamoras PA.